Introduction to incontinence care – Adult Diapers
Adult incontinence products also known as adult diapers. Diapers are mainly single use disposable paper products that are used for both medical and personal use. In this business insight article we will cover main aspects of the industry. Information on insights, main manufacturers from USA, Turkey, China, Germany and Sweden.
Incontinence industry is fast growing industry. Total worth estimated 10 billion 300 million USD in 2019 and projected to grow by 35% to 14 billion USD within 5 years. Adult diapers represent 29.2% of global fluff pulp sales, where baby diapers and feminine hygiene pads represent 34.6% and 24.1% respectively.
If you know brand you need, use Adult Diaper Request form and get latest export price offer.
The size of the adult diaper market in 2016 was $9.8 billion, an increase from $9.2 billion in 2015. Baby diaper sales in the United States are projected to rise 2.6 percent, compared to a forecast increase of 48 percent for adult diapers.

According to Wikipedia
Incontinence Product types
International HS code for diapers is 961900891000. However mainly 961900 is used which includes both body-worn and underpad products. In general majority are diapers, pads, liners, bed sheets.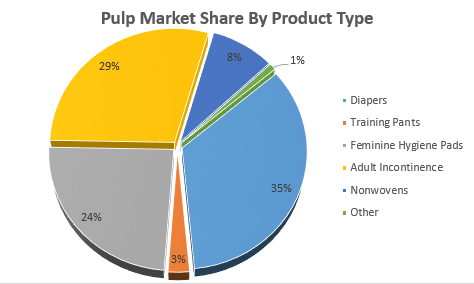 Trends in Adult diapers industry – Adult incontinence products rapidly progress. In recent decade adult diapers get thinner, increased absorption, gained functionality. Most importantly due to progress they became mainstream product. Consumption of disposable diapers increases every year and will increase in further. With appearance of adult pull ups popularity increased even faster. Today adult pull ups and tape on the product have similar market share, but each ear the market share of pull-ups growths faster and soon will overgrow other types of adult incontinence care.
Incontinence Products Consumer Information
Today 617 million people are aged 65+ and this number rapidly growths. Over half of this population has to use incontinence products.
Traditionally developed countries show more interest into Adult incontinence products such as adult diapers and adult pull ups. In 2017 Europe had 24.85% of the consumption market, USA 23.34%, China 16.29% and Japan 16.25% of total market. However population shift to emerging economies and constant growth of African continent, particularly Ivory Coast, Tanzania, Senegal, Djibouti, Rwanda, Kenya Mozambique, Sierra Leone, Uganda, Nigeria combined with aging population of China makes the market more diversified. For instance incontinence products revenue increase between 2016 and 2017 in China was almost 18% and annual 30% growth in adult diapers sales is expected until 2022. Take a look at table below, within last 5 years market share of growing economies increased from 33% to 41%. Those the industry volume will increase and market options will diversify continuously.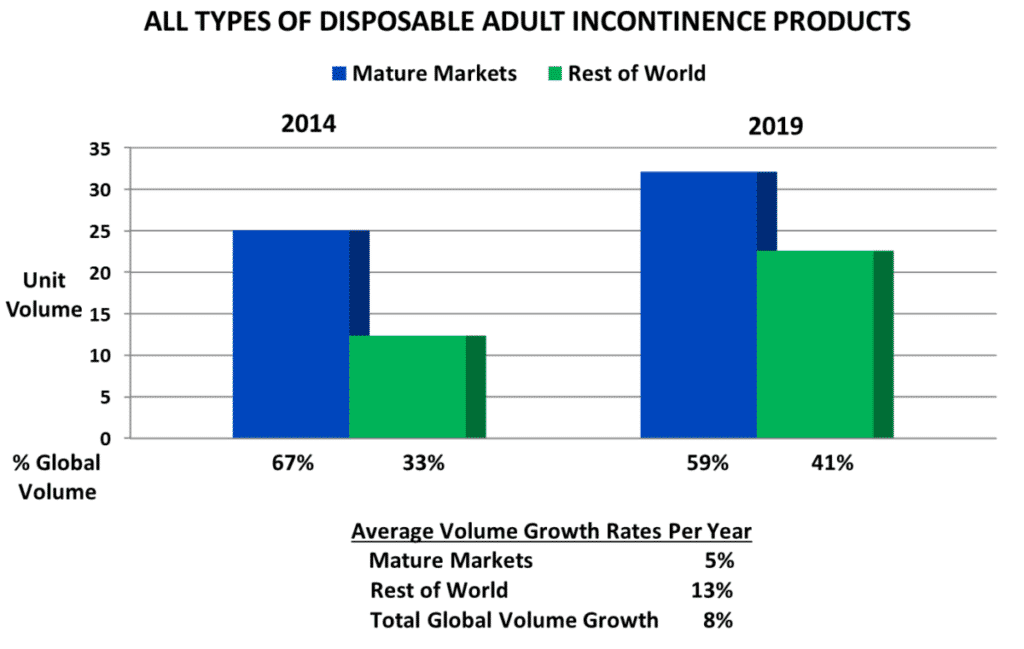 In table above mature markets are U.S.A and Canada, Western Europe and Japan and the growth is projected to be 5% annual next 5 years.
In the rest of the world fastest growth is expected to take place in Africa, China and India as a result of huge population growth in recent years
Adult Diapers Global Sales
Average manufacturer EXW selling price for middle quality adult diapers is around $0.40, for better quality is $0.50 correspondingly. Top brands sale at even higher prices. The prices for pull ups are usually higher than adult diapers due to new technology usage and currently lower sales volumes.

Additionally average shipping cost for adult diapers in bales vary between 8% and 10%.
Manufacturers and brands
The list of adult diapers manufacturers is quite long. However biggest 3 manufacturer account for 47% of global market. Firstly it is American Kimberly Clark (21.90%), secondly is Swedish SCA (14.30%) and thirdly is Japanese Unicharm (10.79%). Yet this does not mean other manufacturers are not offering good products. In fact many Turkish products manufacturers have good quality/price ratio and more over with good negotiation much better working conditions can be obtained. Below we list most notable incontinence product manufacturers with their brands,
Ontex (Belgian and Turkish adult diapers manufacturer).
First Quality Enterprise (Chinese adult diaper manufacturer).
Fujian Hengan Group Ltd. (Chinese adult diaper manufacturer).
Abena Group (Dane adult diaper manufacturer).
PAUL HARTMANN AG (German adult diaper manufacturer).
Hengan Group (Hong Kong adult diaper manufacturer).
Unicharm Corporation (Japanese adult diaper manufacturer).
SCA (Swedish adult diaper manufacturer).
Fuburg (Taiwainese adult diaper manufacturer).
Hayat Kimya (Turkish adult diaper manufacturer).
Pakten (Turkish adult diaper manufacturer).
Paksel (Turkish adult diaper manufacturer).
Halk Hijyenik (Turkish adult diaper manufacturer).
Eruslu (Turkish adult diaper manufacturer).
Nur Kozmetik (Turkish adult diaper manufacturer).
Sevinçler (Turkish adult diaper manufacturer).
Dinamik Hijyen (Turkish adult diaper manufacturer).
Mavi Beyaz (Turkish adult diaper manufacturer).
Kimberly-Clark Corporation (USA adult diaper manufacturer).
Domtar (USA adult diaper manufacturer).
PBE (USA adult diaper manufacturer).
Conclusion
That is to say adult diapers is constantly growing and progressing business. Currently the margins are better than for baby diapers. If you are interested in importing incontinence products and incontinence products to your country this is right time. In ZZ Exporter we offer equally important wide range of disposable diapers for elderly from various Turkish and famous Chinese manufacturers and best prices and conditions. Feel free to use request form below or learn furthermore about how ZZ Exporter works.
Adult Diapers Quick Request Form:
Important information before contacting us:
Minimum order for Adult diapers is 1×20″ or $12 000
Transportation is subject for separate negotiations
We will reply much faster if you provide all necessary information in advance