Are you adult diaper wholesaler?
We have exciting offer for Adult Diaper Wholesale!
-30% discount on regular price for quality adult diaper brand Gizlife manufactured by Halk Hijyen in Turkey.
Order wholesale adult nappies right now!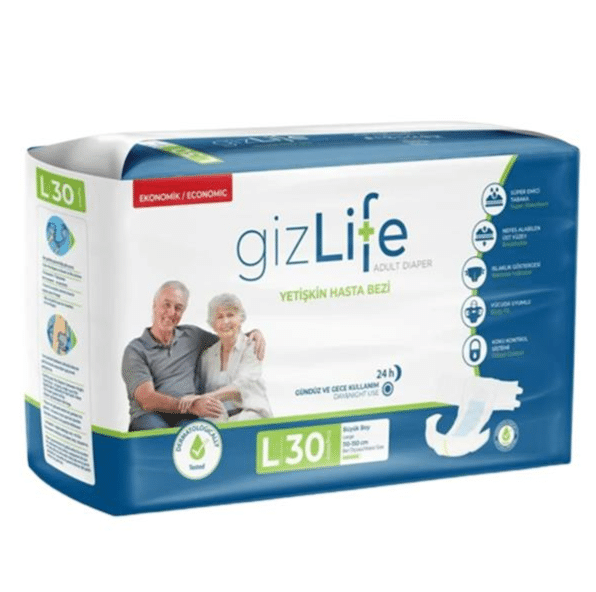 -30% Discounted Price
| Size of Diaper | PCS/Pack | Regular Price | -30% Discount | Available Stock |
| --- | --- | --- | --- | --- |
| Medium | 30 | $7,00 | $5,40 | 10,000 packs |
| Large | 30 | $8,00 | $6,20 | 15,000 packs |
| XLarge | 30 | $8,55 | $6,59 | 6,000 packs |
Prices are for 30pcs packs.
EXW Gaziantep, Turkey
Limited in Stock
Get Your -30% Discount
Gizlife adult diaper key features
✅Velcro Fasteners
✅Superabsorbent Layer
✅Breathable Nappies
✅Wetness Indicator
✅Comfortable Design
✅Odor Control System
Why such a big discount?
We just got this brand and thanks to the support from the manufacturer, we have been able to make cheap prices on GizLife adult nappies so that all our wholesale customers can offer them to their customers with huge benefits.
Minimum order quantity?
The minimum order quantity is either 20ft container which is around 1700 packages or 425 bales or you can mix our other products to get total 40ft container.
Payment terms
30% payment with order, 70% before shipment.
We accept bank transfer and cash payments.
Is this long term discount?
No, this is limited in stock discount to promote adult diaper brand. Once the available stock is sold out the discount will end.
Can I get sample?
Yes, we provide free samples for adult nappies. You only need to arrange cargo company.
Adult Diaper Manufacturer
GizLife adult diaper brand is manufactured on adult diaper manufacturing facility in Adana
Are Gizlife Adult Diapers suitable for tenders and elderly care centers?
Yes, these adult diapers were designed for easy tender wins and suitable for elderly care centers thanks to low price and modern technology used. You can participate in tenders and offer to care centers and hospitals.
Don't miss the chance
Contact us now!
Didn't find what you're look for? Let us know!